Lecturers
Jairo Cugliari is Associate Professor of Statistics at the Laboratoire ERIC of the Université Lumière Lyon 2 in France, after receiving his Ph.D. in Statistics in 2011 (in Paris-Sud University in Orsay, France). His research is focused on academic and industrial data science problems involving complex data, such as functions, texts, multicriteria, or time series. He participated and led several projects driven by new challenges in electrical power demand forecasting problems. He is currently working on innovative usages of text data and heterogeneous transfer learning techniques. He is also interested in scientific popularization. He is a member of SFdS and ENBIS.
http://eric.univ-lyon2.fr/jcugliari/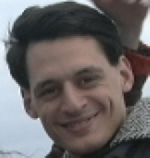 Adrien Guille is Associate Professor of Computer Science at the Université Lumière Lyon 2, France. His research interests lie in the development of machine learning and data mining techniques for the analysis and modeling of text, with the aim of solving real-world problems related to language. While his most recent works deal with (linked) document embedding, he has also contributed to the fields of social media analysis and sociolinguistics. In addition to his participation in academic projects, he also lead or participated in several industrial collaborations leading to the creation of innovative text-based tools.
https://adrienguille.github.io/